On the third Tuesday morning every month, the Sidney Public Library hosts a book club. Members of the club, having read the selection of the month, meet to discuss the book and anything else that follows from the book. Everyone has their own reason for being there. But mostly it is about reading a good book.
The Sidney Public Library is always looking for new book club members. All are welcome to join the discussion on the third Tuesday of each month at 10:00am.
If you are interested in a different type of book club, such as genre-based (like science fiction), age-based (like teens), or one that meets in the evening please contact the library to see about setting something up. The Sidney Library will happily entertain book club ideas.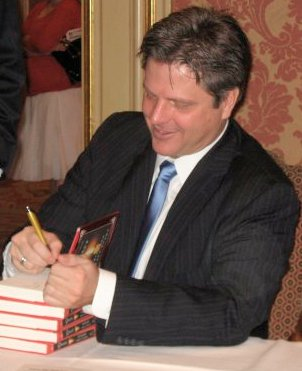 August 17, 2021 - Author Study - Richard Paul Evans
Richard Paul Evans is the #1 New York Times and USA Today bestselling author of more than forty novels. There are currently more than thirty-five million copies of his books in print worldwide, translated into more than twenty-four languages. Richard has won the American Mothers Book Award, two first place Storytelling World Awards, The Romantic Times Best Women's Novel of the Year Award, the German LeserpreisGold Award for Romance and five time recipient of the Religion Communicator's Council's Wilbur Awards. Seven of Richard's books have been produced as television movies. In 2011 Richard began writing Michael Vey, a #1 New York Times bestselling Young Adult series which has won multiple awards. Richard founded The Christmas Box International, an organization devoted to maintaining emergency children's shelters and providing services and resources for abused, neglected or homeless children, teens and young adults. For his humanitarian work, Richard has received the Washington Times Humanitarian of the Century Award and the Volunteers of America National Empathy Award. Richard lives in Salt Lake City with his wife, Keri, and their five children, Sam his grandson and Nora his granddaughter.