Featured picture books. Whether your child is an avid reader or loves to have stories read to them, you are sure to find something great here.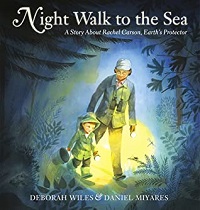 Night Walk to the Sea by Deborah Wiles, illustrated by Daniel Miyares
This luminous picture book by an award-winning author and acclaimed illustrator is the perfect tool to discuss the importance of the natural world with young children, as well as introduce them to environmental activist Rachel Carson.
Director's note: This book is iIllustrated one of my favorite illustrators: Daniel Miyares. See also: A Chip Off the Old Bloc, Little Fox in the Snow and Night Out (which is also written by Miyares).